Waheguru Ji Ka Khalsa Waheguru Ji Ki Fateh!
I would like to first thank the Sikh Society of Calgary for hosting the Calgary Interfaith Council's AGM this year. I have been coming here since the Gurdwara was built and I appreciate the ongoing support of the Sikh Society of Calgary over the years in my interfaith work. Interestingly the AGM location was chosen prior to the nominations for the new CIC board. On a personal note, it became somewhat of a spiritual confirmation for me to have this year's AGM at the Gurudwara as I felt the Guru nudging me to accept the position of Chair of CIC. As the very first Sikh Chair and being female, I am both honored and privileged to serve in such a way. I am grateful to the Siri Guru Granth Sahib ji and ask for continued guidance in this position. I am grateful to the support of those board members who called me personally to encourage me to take on this position despite my medical practice. Again, it is an honor take on this Seva or selfless service.
We have a new board tonight and a warm welcome to those new board members and also thank you to those members continuing on the board. There are many present here who are also new members (both individual and congregational) to the Calgary Interfaith Council. Welcome to you all and it is truly lovely to see the diversity of faiths present here.
The First Sikh Guru Siri Guru Nanak Dev ji Maharaj was an early pioneer in Interfaith work traveling with both a Hindu and a Muslim as interfaith companions to preach and teach equality, social justice and collaboration and cooperation. From the Sikh Perspective, it is righteous to encourage everyone to embrace and practice their own faith but also for faiths to work together for the benefit of a just and equal society.
As Rabbi Glickman has said, we have marked a very successful year of the CIC with many programs. The CIC is in an era of expansion. Last year was the first year with the Executive Director Sarah Arthurs and, we were able to expand our programs further. Now, I would like to work with you all to further this expansion of the CIC. We can achieve great things with God's Grace, but we need participation. We need active engaged members to be part of the subcommittees to work, to plan, to strategize for new projects and programs. Yes, it is work but it is fun and the results are absolutely amazing with new friendships, strangers becoming neighbors, and ultimately faith communities developing relationships of trust and respect amongst each other. Please consider volunteering for a position on a subcommittee which moves you and which you are interested in. We need volunteers who are experts in social media, in accounting, in programming and website design and those with other experience. In whichever area of expertise you have, you could share your wisdom and help the CIC with its mission: to deepen relationships across faith traditions, celebrating diversity and learning about and from one another to foster a just and respectful city.
We are in a time where there is unfortunately divisiveness and political rhetoric which allows for racism and discrimination and inequality to appear once again. We have just seen this in our province and our city and we must work together to counteract this. When we as faith communities come together and collaborate, we can show that we can achieve a pluralistic society where we have both respect and understanding to build a better City. There is need for Interfaith relationships amongst faith communities right now as when one faith is threatened, then ALL faith is threatened.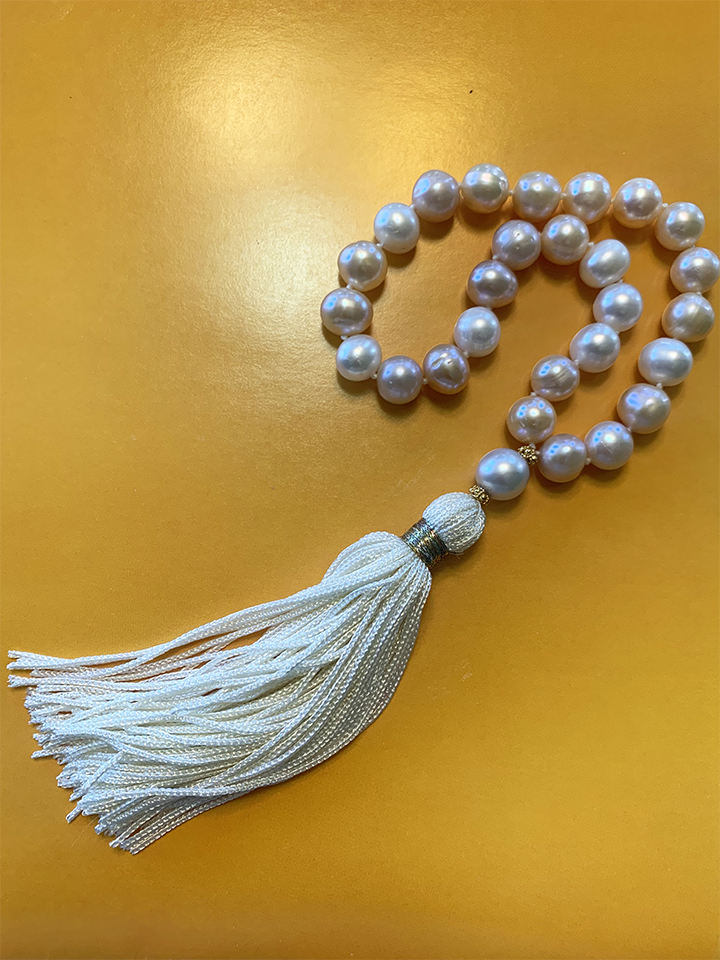 The Calgary Interfaith Council and the focus on Interfaith Harmony has become even more important for this. The Calgary Interfaith Council is represented by this Mala. I liken the different faith communities to be beads on the Mala or Rosary of God, the Divine Almighty. We are tied together with the Sacred thread of faith with the Guru Bead being God. Together we can collaboratively work to elevate the vibratory frequency of our city so that all faiths and all people prosper. Please join with me and the CIC board in this special Seva.
In closing, I would like to end with the last words of the prayer Sikhs recite many times each day.
Says Nanak, may the Divine Spirit be exalted and may all people prosper by Thy Grace.
Waheguru Ji Ka Khalsa Waheguru Ji Ki Fateh!